The different types of wood for a pocket knife
Among the characteristics of a pocket knife, there is of course the composition of its handle. Choosing wood for the handle means adopting a noble and timeless material, and what is more, customizable!
From the most common to the noblest of species, it is important to know the characteristics and advantages of each type of wood to be sure to choose the one that will suit you best for the use you make of it.
---
Common woods, for rustic knives
Choosing a so-called common wood for the handle of your knife has many advantages, such as certain robustness linked to its rusticity, and of course the impact on the price of the knife.
It is the ideal choice for a knife that you will potentially be roughing around a bit from pocket to pocket, or which will be used in harsh conditions. Typically the type of wood used for grandfather's knife, which took him everywhere!
By simple wood, we mean the essence of trees that are easily found in our latitudes.
This is the case with oak, for example. Very present in France, its robustness gives it great longevity and allows everyday use without fear of premature wear.
If you are looking for a wood that is very durable and easy to maintain, consider the olive tree.
It is a wood that is easily found in France and in Mediterranean countries. Its grain is fine, which makes it pleasant to handle, but also not very porous, therefore rather waterproof. It is often used for rustic Damascus pocket knife.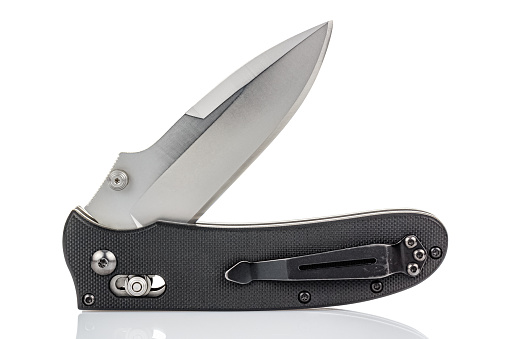 ---
Distinguished locals, for a refined pocket knife
Among the other woods that we can choose for a knife from our regions, we find the more refined species, with a small specificity, for an original pocket knife.
This is the case with birch: it is one of the woods that allows 100% made in France.
It is light, resistant, and aesthetic, with its light and speckled color which patina harmoniously over time. Another advantage is that it is rather easy to maintain thanks to its impermeability.
Boxwood
Boxwood, a very widespread shrub, is also a wood of choice for traditional knives that are passed on or offered because it is a flexible wood that can be engraved or carved. This makes it possible to make a boxwood handle unique. The softness of its grain and its pretty honey color make it very pleasant both to the sight and to the touch.
Juniper
Juniper is a pleasure to smell. Coming from a shrub from the garrigue that is also called cade, it is a flexible and solid wood at the same time, which has the particularity of having a peppery odor. Its honey color doesn't make it any less pleasing to the eye, making it an essence of choice if you want a traditional but original pocket knife.
---
Exotics, for luxury knives
After the tour of France of local species, let's go on a trip to discover overseas woods. These species are often those which are prized for cutting the handles of exceptional knives.
If we choose woods from far away, it is for their exotic and precious character.
We start with Africa, where wenge originates, or another wood famous for its timeless beauty and strength: ebony.
You may choose this wood from West Africa for its deep black color, of great elegance. This species is particularly popular in cutlery for luxury pieces.
Small detour through South America, where other magnificent species come from for the choice of your knife handle.
Amourette
Amourette, for example, a wood so delicate that it is used for making violin bows, or bocote (also known as rosewood) which is used to make luxury billiard cues.
In cutlery, these woods are dedicated to collector knives which are intended to last through the ages.
We end the trip with Brazil, where the violet wood originates, with its original slightly purplish tint, nicely streaked, which turns brown over time. We will choose it for a racy knife, a piece combining character and unique aesthetics.
---
The final word
You now know the little secrets of each type of wood used to make pocket knives.
At Le Couteau de mon Grand Père, we suggest you choose among all these essences to find the one that suits you best, depending on the type of knife you are looking for!
And as each tree is unique, each wooden knife handle will be just as much, recognizable by its little detail, like a little secret between you and your knife.
Best Thrift Shops In Arizona

Simply enter "thrift stores Phoenix" into your search engine, and you'll be bombarded with listings for resale items in this rapidly urbanizing region.
Consider them as a sustainable oasis in the consumer desert that is our contemporary culture.
One of the best things about these thrift shops in Phoenix is that many of them raise money for deserving causes in addition to finding homes for gently worn clothing and furnishings.
After a day visiting the Desert Botanical Gardens or trekking the trails if you're feeling sunburned, head to one of these Phoenix thrift shops for some environmentally friendly shade.
To maximize your eco-efforts, go over our thrift shopping advice before you start popping tags.
Then, let's go thrift shopping Phoenix-style while carrying your plastic-free water bottle and eco-friendly sunglasses.
HALO Animal Rescue and Thrift Shop
Phoenix's thrift shops are a thriving sustainable oasis in this arid city, full of… Image courtesy of HALO Animal Rescue Thrift Store Phoenix secondhand shops are identified by the hashtags "phoenix thrift shops," "phoenix thrift stores," and "sustainable jungle."
Phoenix's top thrift shops are those that sell used goods for reasons other than pure profit.
And the perfect place for both fashion and animal enthusiasts to congregate is the HALO Animal Rescue secondhand store.
One of the best places in Phoenix to find ridiculously low prices is this thrift store. The cost of almost everything is $4 or less!
This includes home furnishings that are donated by one of Phoenix's many furniture consignment shops, as well as women's clothing, shoes, purses, and accessories.
Helping Animals Live On, or HALO is its acronym. All store revenues go toward this objective; they are a non-profit organization that provides temporary sanctuary to cats and dogs as they wait for their forever homes.
PHOENIX ASSISTING LEAGUE THRIFT BOUTIQUE
Phoenix's thrift shops are a thriving sustainable oasis in this arid city, full of… photograph by the Assistance League of Phoenix, hashtag: thrift stores phoenix
Concerning Assistance League of Phoenix Thrift Store
Phoenix thrift shops like the Assistance League of Phoenix Thrift Boutique will satisfy your craving for high-quality furnishings and clothing.
This thrift store is situated in North Central Phoenix and offers furniture, home items, small electronics, lamps, books, stationery, shoes, and apparel for the entire family.
The Assistance League of Phoenix runs a range of charitable initiatives aimed at enhancing the lives of kids, including initiatives to meet their basic needs, promote reading, and offer support to kids going through difficult times. get the idea of keyword rolls royce ghost price in pakistan
THRIFT + GIFT WITH FLOURISH
Phoenix's thrift shops are a thriving sustainable oasis in this arid city, full of… Photo by Flerish Thrift and Gift, tagged with "thrift stores phoenix"
There are many clothes, jewelry, shoes, purses, furniture, household goods, home décor, and electronics available at this enjoyable and welcoming charity thrift store in Phoenix.
Community members give goods, and all sales revenues go toward helping the Civitan Foundation, which offers services to people with disabilities, carry out its mission.
Additionally, Flerish Thrift + Gift collaborates with the Civitan Foundation to help disabled people find employment and develop their professional skills.
THE NEED TO SUCCEED
Phoenix's thrift shops are a thriving sustainable oasis in this arid city, full of… picture from Thrift to Thrive
Thrift to Thrive is one of the top thrift shops in Phoenix for finding inexpensive antique and modern stuff, plus by shopping there, you can support families in need.
The store has a large selection of clothing for the entire family, as well as toys, books, furniture, artwork, home decor, electronics, and household goods. It is very neatly organized.
A nonprofit group called Thrive AZ works with young adults who have aged out of foster care and at-risk families. It offers young folks shelter, support and encouragement, referrals to neighborhood programs, and useful products.
The safe sleep program of Thrive Arizona, which gives mattresses to children and young people in need, is supported entirely by the sales from this Phoenix charity store.
Donations to Thrive AZ can also be dropped off at the Thrift to Thrive store. Their website lists the items they most urgently require.
MAGGIE'S THRIFT
Phoenix's thrift shops are a thriving sustainable oasis in this arid city, full of… Picture from Maggie's Thrift
Located in Phoenix, Maggie's Thrift is a social enterprise that supports Maggie's Place, a non-profit that offers accommodation and support for expectant and parenting women and their kids.
Donated items to Maggie's Place are either used by the families they assist directly or sold to generate revenue.
There are many economical options for high-quality clothing, furniture, and household goods. Additionally, they regularly offer discount days that highlight particular items at even lower costs.
THRIFT SHOPPE THE WHITE DOVE
Phoenix's thrift shops are a thriving sustainable oasis in this arid city, full of… White Dove Thrift Store, source of the image
The White Dove Thrift Shoppe is a network of charitable thrift shops that supports Hospice of the Valley, the top provider of palliative care in Arizona.
Each location's fundraising efforts support the hospice's charitable programs for those without insurance or financial resources as well as its specialized patient-care initiatives.
They are among the largest thrift shops in Phoenix, and they daily add new stuff.
There are lots of clothes, jewelry, household products, furniture, and home decor items available, including some interesting vintage treasures. When you run out of books to read or need a good crime thriller, there is also a designated book room. you may also like to learn about how to earn money from amazon in pakistan
GREATER SCOTTSDALE BOYS & GIRLS CLUB
Phoenix's thrift shops are a thriving sustainable oasis in this arid city, full of… photo courtesy of Boys and Girls Club Scottsdale Secondhand Store
One of the top Scottsdale thrift shops for a designer, vintage, and unique finds is the Boys & Girls Clubs of Greater Scottsdale Thrift Shop.
You can find furniture, antiques, artwork, rugs, linen, small kitchen appliances, children's toys, books, and more in addition to clothes and shoes.
It's worth stopping by to see what fresh treasures are in stock because new merchandise is always being added.
Boys & Girls Clubs of Greater Scottsdale, a nonprofit devoted to assisting young people, receives support from sales at the store.
They oversee a variety of clubs with a focus on the arts, education, careers, health, and fitness.
PEACE TREASURE RESALE BOUTIQUE
Phoenix's thrift shops are a thriving sustainable oasis in this arid city, full of… Photograph by Tranquility
Then you should read this if you enjoy rabbits.
One of Scottsdale's top secondhand shops for art and home furnishings is the Tranquility Treasures Resale Boutique, a hidden gem.
Although there isn't much clothing available, you can purchase accessories like jewelry and purses as well as the occasional wedding dress or other specialty apparel.
They mostly carry high-quality furniture and household goods in their inventory.
The animals at Tranquility Trail Animal Sanctuary, a nonprofit organization that specializes on senior and special needs domestic rabbits, benefit entirely from store sales.
THE THRIFT STORE IN ST. VINCENT DE PAUL
Phoenix's thrift shops are a thriving sustainable oasis in this arid city, full of… Image courtesy of the St. Vincent de Paul Thrift Shop
Every St. Vincent de Paul thrift shop in Phoenix provides a wide selection, including anything from furniture and kitchen appliances to sporting goods, bikes, and books in addition to apparel and books.
There are lots of possibilities to bargain shop while helping a good cause, with six locations spread out throughout the Phoenix area, including two in Scottsdale.
Since 1946, the Society of Saint Vincent de Paul has provided assistance to those in need in Phoenix.
Services for the homeless, charitable eating halls that serve thousands of people daily, family food boxes, and medical and dental care are just a few of the programs offered.
T4T THRIFT SHOP
Phoenix's thrift shops are a thriving sustainable oasis in this arid city, full of… Picture from Treasures for Teachers
In Tempe, thrifting?
Add the T4T Thrift Store to your list after that. One of the greatest places in Tempe to find high-end items at a discount is this thrift store.
The properly categorized items at the well-organized boutique make it simple for you to find what you're looking for.
Browse a variety of items, including vinyl, books, apparel, antiques, collectibles, and furniture.
Treasures 4 Teachers, or T4T, is the name of the organization that works to give teachers and other educators access to free and inexpensive supplies.
Teachers can browse the extensive supply warehouse at T4T, which contains everything from pens and pencils to a variety of art products.
The Buffalo Exchange
Phoenix's thrift shops are a thriving sustainable oasis in this arid city, full of… picture from Buffalo Exchange
You won't want to miss this one if Phoenix consignment shops are something you're interested in.
Buffalo Exchange operates more than 40 thrift stores around the US, including Buffalo Exchange Tempe and Buffalo Exchange Phoenix, and six thrift stores in Arizona.
Each store serves as a marketplace for new and used apparel purchases, sales, and trades.
Being one of the greatest clothes thrift stores in Phoenix, their Tempe location is ideally situated adjacent to the University and offers a great selection of trendy items.
Additionally, there are purses, accessories, and a vintage area.
Every time a consumer declines a plastic bag through the "Token for Bags" initiative, $5 is given to one of three nearby charities. The company has given local charities a total of $893,860 from all of its retail locations.
Additionally, their annual Earth Day $1 sale has generated $50,000 for The Humane Society's animal rescue efforts and The 5 Gyres Institute's efforts to combat plastic pollution, respectively.
What should I do with my old clothes?
Why not drop them off during store hours and sell them? (no appointment necessary). They provide 25% in cash or PayPal or 50% of their selling price as in-store credit.
WHY GO TO FLAG SHOPS IN PHOENIX?
Phoenix is undoubtedly the place to go if you enjoy the outdoors. There are acres of parks to explore, including South Mountain Park, one of the biggest city parks in the world.
And the next time you need to update your wardrobe, you can support them by making a purchase at one of Phoenix's many secondhand shops.
In particular, given that the amount of clothing waste generated in the US has increased by 200%, from 7 million to 14 million tonnes.
In addition to taking up to 200 years to decompose, textiles also emit toxic microplastics and other pollutants into the environment as they do so.
So, Phoenix thrifting is a terrific approach to avoid quick fashion and extend the life of clothing.
As charity thrift stores have grown in popularity, including many of the clothes and furniture thrift stores Phoenix has to offer, you can score a fantastic fashion deal while also contributing to a number of worthy organizations.
Love the summertime but despise quick fashion?
So does Phoenix, which has (nearly) as many secondhand shops and an average of 211 sunny days per year! also, learn about keyword freelancing sites in pakistan
However, if you want to chill yourself while also cooling the earth, we suggest finding refuge at one of the numerous thrift or consignment shops Phoenix has to offer.
We can put further pressure on the fashion business by buying less new clothing and more used clothing, whether we do it in Phoenix or through Internet thrift shops.
Do you know anyone who resides in or intends to travel to the Valley of the Sun?
Help them experience the wonderful glow that comes from finding a deal at a charity boutique by sharing our list of secondhand shops in Phoenix.
Custom Packaging Leading Main Role in Industry
To a large extent, the success of a product can be attributed to the customization of its packaging. The acquisition of such packaging serves the primary purpose of enclosing the item to be shipped in a sheltered container and ensuring that it arrives at its destination in one piece. Custom boxes, as opposed to standard cartons, are essential because the design of custom boxes is based on the specifications of the items being packaged. In addition to that, the material that these containers are made of is solid. These custom cardboard boxes, which are offered in a wide variety of dimensions and contours, are the ideal packaging choice for items that range in size, style, and composition. They are well-known for both their products sold in retail establishments and those sold in online stores.
Custom packaging is ideal for the transportation of goods
Another important issue that requires attention is the transportation of manufactured goods from the manufacturing facility to the retailer, whether local or online. Custom Kraft boxes are the perfect solution for that, and producers and retailers consistently choose them. The idea that Kraft is the only acceptable option for wraps is a common one. Some people believe that this material cannot be used to manufacture boxes. However, using this material to create any type of packaging solution is indeed completely safe. Since it is rigid, it can steadfastly withstand dings and scratches while the item is being transported.
These custom wholesale boxes are best for people who trade everyday items, and buyers typically buy them in sizable quantities. Additionally, the personalised shipping box is a powerful marketing tool for people who sell their goods online. Custom boxes with logos can both protect the product during transportation and serve as a marketing and branding tool for the manufacturing company.
Additionally, the retailer receives numerous containers each day and the cargo company benefits from the use of such printed shipping boxes by simplifying the shipping process. The box with handles is a useful solution for items that are a little difficult to pick up. The container's handle can be completely customised, and the manufacturer can decide how many handles there should be. Additionally, the handle's shape has the potential to be unique and inventive. Clothing, electronics, cosmetics, and food items are just a few examples of the items that benefit from using these custom-size shipping boxes. Leading cargo companies rely on these wholesale shipping boxes to transport packages in the safest possible manner over both short and long distances.
Printing on the packages
Custom boxes offer to print. Is cardstock printable? It's a crucial question. Yes, indeed.
They're print-friendly and can be colored per customer request. Manufacturers, consumers, and service providers use custom-printed boxes daily. Cardboard box printing is useful for online or local sales and personal events. The cardboard wedding card box is a stylish and convenient way to send invitations on your big day.
Printing is unbeatable for multiple-use packaging boxes. Custom boxes for your business attract buyers and achieve other goals. Box invitations are one example. White invitation boxes are more elegant than any other type.
After modifications, a simple cardboard box can also be used. These invitation boxes in bulk can be used for a large party or an organization's annual dinner. A party is also a chance to network and exchange business cards.
Cosmetics and fashion industry
Custom Cosmetic Boxes offer to print. Is cardstock printable? It's a crucial question. Yes, indeed.
They're print-friendly and can be colored per customer request. Manufacturers, consumers, and service providers use custom-printed boxes daily. Cardboard box printing is useful for online or local sales and personal events. The cardboard wedding card box is a stylish and convenient way to send invitations on your big day.
Printing is unbeatable for multiple-use packaging boxes. Custom-printed boxes attract buyers and achieve other goals. Box invitations are one example. White invitation boxes are more elegant than any other type.
After modifications, a simple cardboard box can also be used. These invitation boxes in bulk can be used for a large party or an organization's annual dinner. A party is also a chance to network and exchange business cards.
strong>Custom packaging for the food industry
The food industry also uses custom cardboard boxes. Manufacturers and suppliers need custom food packaging. This packaging ensures safe food delivery. This packaging is also used to showcase delicious food. Custom-printed doughnut boxes preserve doughnuts' shape and freshness. Food chains like French fry cartons with handles. Custom retail packaging lets customers enjoy luscious fries without fuss.
· Importance of retail boxes for food items
· Cereal boxes
· Chinese food takeaway boxes
· Chinese food containers
· Chocolate boxes
Medicine and drugs industry
The pharmaceutical industry uses millions of medicine boxes annually. Some medicines need extra protection, so they use custom boxes. If they're in a folding box, they'll be damaged and consumers won't get the best product. Custom display boxes showcase some medical equipment. A pop counter container displays tablets, mouth fresheners, and chapsticks. Inside or outside the container, paper box packaging provides protection. Every cigarette box has a health warning that smoking is harmful.
Custom retail containers are a global necessity. Retailers prefer boxes for their many benefits. Custom retail packaging can be tailored to product needs. Cube boxes are a revolutionary packaging solution for retailers. They're sturdier than paper boxes. Retail box packaging changed the retail industry. White boxes for shipping are popular. Custom packaging boxes are safe for reusing and recycling. Reverse tuck end boxes protect items' best wholesale custom packaging.
Top 5 Coins Worth Collecting and How To Tell Whether They Are Real Or Fake
Traveling through time, thousands of coins around the world have been minted. Some of these coins were stamped in thousands, while others were limited due to their uniqueness in design or event. Collectors of the globe are willing to pay millions to get a hold of one of these pieces.
Gold and Silver proofs are some of the most famous precious metals used prior to the legislative ban on stamping rare metal coins. Numismatics worldwide look for authenticity and brilliance as some historical coins add value to their collection.
The history they hold of being around in possession of a king or the pocket of a soldier in war makes them remarkable. Some of these precious coins are the property of Millionaires as collector coins in Canada, the U.S., China, or other leading countries. It all depends on the buyer's preference and If they are willing to spend a whopping amount on these beauties. Some of the ultimate collector options with credibility are mentioned below
1 St. Gaudens Double Eagle 1933
This is one of the rarest coins highly sought out by Numismatics. The surprising aspect of this coin is that this was not rare in the initial phases of minting, and many pieces were struck. But many of these were melted after the legislation of not owning gold coins.
The ones that survived hold high value because people think that this is one of the most beautiful coins ever made. This coin was sold privately in 2002 for a shocking $7.6 Million. Experts inquire about the credibility of this coin by gauging the luster.
If the coin is too reddish, it might undoubtedly be chemically treated and thus fake. Another exceptional feature in the indentation of 'In God We Trust ' was not initially added by designer Augustus Saint Gaudens but was later modified.
2 Flowing Hair Silver Dollar 1794
Sitting on the pedestal is the 1794 Flowing Silver Hair Dollar auctioned in 2013 for above $10 Million. Numismatics believe that this might be one of the first dollars ever coined. The Lady Liberty with flowing hair frontal is the prime feature of this magnificent coin. The back of the coin has an American Eagle embossed on it.
A small amount of these coins was struck in production, and fewer remained, which makes them extremely rare. The thickness comparison is a credible feature to look out for in this coin. It's made of high-quality metal, so If you see a rusty version produced by the 'wear technique' used by scammers, it's probably fake.
The lettering might also not be as clearly embossed in the counterfeit coins.
3 D-3 Legged Buffalo Nickel 1937
One of the coin collector's favorites is the 1937 D-3 Legged Buffalo. This coin missed fame from the beginning. Once people noticed the missing leg of the Buffalo on the reverse side of the coin, It quickly became rare. Back in the day, due to the cost of coin minting, people used to extend the life of the dies by polishing them.
Some coin maker mistakenly ground the surface of the die, which removed a leg of the buffalo. Because of this uniqueness, they hold extreme value. A counterfeit coin might have visible signs of the removal of one leg by the seller. You can clearly feel the indentation on the coin if the leg has been physically removed and polished. Avoid purchasing these fake coins.
4 Brasher Doubloon
One of the most expensive coins in the world is the Brasher Doubloon, crafted by Ephraim Brasher. It is well-known as the U.S.'s first gold coin ever made. A total of seven of these coins were ever struck, while only one of the coins has the creator's initials embossed.
The initials are embossed on the breast of the eagle on one side of the coin. The selling of this coin took place privately for a stunning $9.36 Million in 2021. The real Brasher Doubloon is made of 22k gold, while the fake ones might be made of copper. The stars on one side of the counterfeit coin are not pointed as the original die but just raised to look the same.
5 Umayyad Gold Dinar
The 1,300-year-old coin holds its value as one of Numismatic's most sought-after coins worldwide by Numismatic. The Umayyad Gold dinar was first made in 723 AD in Damascus. Both sides have incredible inscriptions on them. It is one of the first coins to have a location inscribed. Only a dozen are still in existence, making them extremely rare and precious. In 2019, the selling of this coin was for £3.72 Million.
The stunning gold color and the raised inscription are prime features to look out for when dealing with fake coins. The actual Umayyad Gold dinar weighs 4.24 grams. These coins are rare, and one of them is on display at the British Museum London as part of an essential Islamic History artifact of value.
Conclusion
Coin collectors in all parts of the world are always searching for rare, historically important currencies. They not only add value to their collection but also symbolize the time the coin has been through. Some of these gold and silver-proof commemorative coins are worth Millions and are significant in possession of rulers and world leaders.
Understanding the difference between legit and counterfeit coins requires skill and an understanding of their history, which Numismatists take on as their favorite task. Their rarity, quality of material, and condition over hundreds of years make them prized and ownership worthy.