Holi in Rajasthan 2022: A Grand Celebration of Colors!
The festival of Colors Holi is the most awaited festival all over India. People are eagerly waiting to celebrate the colours with their close persons. Additionally, the vibrant atmosphere of Holi creates joy and happiness in everyone's heart. The culture and tradition of the Holi celebration in India are different in each state. While some north Indian states enjoy this colourful festival with a bonfire, the Holi in Rajasthan celebration includes traditional rituals and practices. In each city of Rajasthan, the mode of celebrating Holi is different.
Besides this, this colourful festival is more attractive with special Holi drinks. These drinks, such as Lassi, Bhang, and Chas, make the festival more beautiful. Additionally, the taste of Rajasthan cuisine will make the celebration stunning. Apart from this, different Holi activities of various Rajasthan cities will increase people's excitement to celebrate this festival.
Here are some special Holi events of Rajasthan. So, get an idea of the Holi festival in Rajasthan and book your Rajasthan tour packages to celebrate the festival memorably. 
Different Holi Events in Rajasthan
Holi festival Rajasthan is a traditional and enjoyable festival. People from different age groups celebrate this festival with colours and lots of activities. Here some highlights of Rajasthan hold events in various places are described below. Let's check out these.
Dhulandi Holi – Jaipur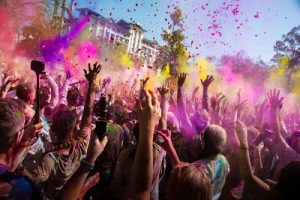 Dhulandi Holi is the best attraction of Jaipur. The end of the winter and the beginning of spring will make the Holi festival of Jaipur more beautiful. A fairy tale about Dhulandi Holi in Rajasthan is, Lord Krishna turns blue after drinking the demon's milk on this day. Mata Yasoda suggested Lord Krishna colour Radha into the same colour for the perfect solace, so from that Day, Dhulandi Holi is celebrated all over Jaipur in the Holi festival.
On this particular day, the temples of Lord Krishna are decorated with lights, flowers and colours. Many special arrangements are made to celebrate the festival happily. Besides this, many foreign tourists also attend this special event of Holi in Jaipur. This colour festival in Rajasthan is more impressive with traditional foods, activities, traditional songs and dances.
Mali Holi – Ajmer
Ajmer is the most beautiful city of Rajasthan, where Holi is celebrated uniquely. People call it Lathmar Holi in Rajasthan. The men of the mali community of Ajmer slit colours on women. Then women used a bamboo stick to beat them. This popular way of celebrating Holi is also famous in Banaras. However, through these rituals, the traditional values of Rajasthan spark. Besides this, people also eat and drink the traditional food of Rajasthan on this day. Every street and lane of Rajasthan is full of different colours.
Moreover, the people of Ajmer also worship Lord Krishna on this day. Each temple and house of Ajmer is full of colours and flowers. Another interesting fact about Ajmer's Holi festival is that people and cattle are coloured with different colours on this day.
Gair Holi – Ajmer
Another memorable holiday event of Ajmer is the Gair Holi. In this Holi celebration, people from the nearest village came with different musical instruments like dhol, drum, and sticks to make the Holi more beautiful. Additionally, in some places, people also celebrate Kodamar Holi in Rajasthan. In this unique celebration, the men of Ajmer sprinkles the colours on the women. Then women fill the cotton cloth in paint and make a Koda. After that, the women beat the men with this Koda. So this special holiday celebration is Kodamar Holi. Most people from different villages gather at Godaji Village, Ajmer. With traditional song and dance, the Holi celebration of Ajmer creates a smile on everyone's face.
Dolchi Holi – Bikaner
In Bikaner, a traditional and unique ritual of Holi celebration by people from 300 years back. On this particular occasion, men throw water on other people with Dolchi. However, to set up all the conflicts and disputes between persons, Bikaner celebrates this unique holiday festival. By the way, women also participate in this traditional practice. So this festival of Holi becomes a significant event in Bikaner. The sweetness of Ghevar and Ladoo with the Holi colours makes the Dolchi Holi festival more beautiful.
Brij Holi – Bharatpur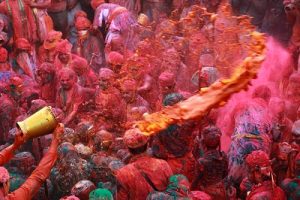 One of the famous Holi in Rajasthan is the Brij Holi of Bharatpur. On this particular day, the people of Bharatpur worship lord Krishna and Radha. Additionally, men and women dressed as Radha and Krishna dance in traditional songs. Many women wear dresses like Gopi, so the festival looks more colourful here. The spiritual atmosphere of Bharatpur creates peace and relaxation in everyone's heart. After the Holi celebration of Bharatpur, people take a holy dip at the Banganga River to clean their hearts and soul. 
Also Read: How to Enjoy Budget-friendly Family Camping
Conclusion
In conclusion, the royal Holi in Rajasthan is the witness of many traditions and rituals. Different events celebrating Holi make everyone happy. If you want to enjoy this festival, you must visit Rajasthan to celebrate Holi this year. Holi in Rajasthan 2022: A Grand Celebration of Colors!
5 most beautiful national parks in Canada
Canada is a beautiful country, diverse and picturesque, with a huge number of attractions. Unfortunately, most tourists travel to large cities. However, one should not ignore the incredible national parks of Canada, which are recognized as one of the most beautiful in the world. We will tell you about which parks are worth visiting in this article.
Nahanni National Park
Nahanni Park is located in northwestern Canada. The territory is 30 thousand square meters. km. It is not so easy to visit it – you can only get there by seaplane. Throughout Canada, the park has become famous for the fact that the Virginia Falls are located on its territory, which is twice the height of Niagara Falls. Nahanni is like a magnet for the most desperate travelers. The park area is great for camping, tourists set up camps and for several weeks study the extraordinary nature, conquer mountain peaks, visit places with hot sulfur springs and just walk through the expanses of the alpine tundra.
Walking in such picturesque parks gives a lot of vivid emotions – even if you do not have the opportunity to visit parks in Canada, you can still experience unique emotions. Here you will find a large number of entertainments for every taste. They provide an opportunity not only to have fun, but also to earn money on bets.
Yoho National Park
An amazing place for all lovers of untouched nature. Emerald Lake looks unreal due to its bright colors and clear water, but Lake O'Hare is no less picturesque. In Yoho National Park, there is also the most beautiful waterfall in Canada – Takakkou, whose water falls from a height of 254 meters. Also, Yoho's decoration is considered a natural bridge. Tourists are attracted to Yoho by absolutely everything – incredible nature, mountain peaks, waterfalls, birds, animals. All this helps to immerse yourself in the primitive nature and find peace.
Waterton Lakes National Park
A distinctive feature of the Waterton Lakes National Park is its location on the border of the United States and Canada. The American side is known as Glacier National Park, and together they form Waterton Glacier International World. One of the most striking wonders in the park is the Red Mountain Canyon with incredibly beautiful red rocks. And in the Buffalo paddock, by the waters of Camerno Lake, you can watch a herd of buffalo in their natural habitat.
Canadian Jasper Park
Incredibly large reserve with mountain peaks and millennial glaciers. The park is located in a mountainous area. The area is ideal for hiking and active sports. There you can not only visit sightseeing tours, but also devote time to getting to know nature, rock climbing and horseback riding. Don't miss the top attractions in the park, including the magnificent Athabasca Falls, breathtaking scenery aboard the Jasper SkyTram, and the crystal-clear waters of Medisne Lake.
Banff National Park
The first, the largest – its area is 6641 square meters. km. and the popular National Park of Canada. Tucked away in a valley surrounded by lakes, hot springs, canyons and spectacular mountain ranges, Banff National Park dazzles visitors with its beauty. Its highlight is Moraine Lake, whose water level rises in early summer and takes on an incredible shade of blue that you will never forget. This is a real paradise for outdoor enthusiasts: skydiving over the Rocky Mountains, hiking, caves, fishing, cycling – you will find it all here.
Move to These South Carolina Cities for Your Career
South Carolina is a significant player in several important industries in the United States, and it has the potential to provide for yours. Whether you're looking for a temporary stay as a starter or settling down for the long haul, South Carolina has plenty of places to suit all career needs. Career-minded people looking to market themselves and find good work will find that South Carolina has plenty of places that will serve that end. Here are just a few cities in South Carolina that can boost your career.
Columbia
The capital of South Carolina is probably your first thought when considering places to build your career in the state. Located in South Carolina's Midlands region at the Broad River and Saluda River meeting point, Columbia has many features that make it prime for house hunters. The city boasts a diverse economy, with rising manufacturing, IST, and healthcare jobs. In addition, Columbia is amid growth from urban redevelopment, meaning there are plenty of new Columbia houses for sale in residential areas. Columbia is the perfect place for those looking for stability and safety in these uncertain times.
Charleston
Charleston is the oldest city in South Carolina, its history stretching back to 1670. A coastal city at the intersection of the Ashley, Cooper, and Wando rivers, the tourism industry of Charleston is one of the largest in the state, particularly for art tourists. Commercial shipping and information technology are also vital for the city's infrastructure. And with a median home price of less than $250,000, housing is easier to get than ever before. Charleston is considered one of the nicest cities in the country, so check it out today.
Rock Hill
Rock Hill, found in the northern region of South Carolina, is a city defined economically by its retail and manufacturing markets. Since the movement of manufacturing jobs overseas, Rock Hill has restructured its economy to be more dependent on and receptive to its workforce. Telephone and Internet company Comporium Communications and 3DSystems, the leading company in manufacturing 3D printers, are headquartered in Rock Hill. In addition, several high-end shopping centers are scattered throughout the city, including Rock Hill Galleria and Manchester Village. For those looking for a tight-knit community or work in the growing manufacturing field, Rock Hill has what you're looking for.
North Charleston
For those unfamiliar with the state, Charleston and North Charleston are different cities. The most prominent aspect distinguishing North Charleston from Charleston is the former's housing of Boeing's East Coast facility and several major technology companies such as Verizon Wireless. Manufacturing for these two industries is also broadly impactful in North Charleston, with companies such as Venture Aerobearings and Robert Bosch GmbH being major players in the city's economy. As one of the industrial capitals of the east coast, North Charleston is a city that will provide economic stability.
Style A Backpack For Any Occasion
What is a Backpack?
Beginning in the United States in the mid 1900s, knapsacks are typically characterized as packs that have two shoulder lashes and are carried on one's back. Beside the large number of ways that a rucksack can be worn, these sacks convey everything – from our basics that we take to work, (for example, our PCs and a few snacks to help us through the day) to our child's things, gorgeously stuffed for an excursion to the recreation area. As far as we might be concerned, obviously the backpack is far beyond a pack that you carry on your back.
5 Ways to Wear a Backpack
The most ideal sort of knapsacks are convertible and can be worn in various ways – not simply on your back. Worn crossbody, as a shoulder pack, by the top handle, or threw easily more than one shoulder, a knapsack can be utilized to lift your search for any event immediately.
Conventional Method of Wearing Backpacks
Customary doesn't necessarily need to exhaust. Wearing a rucksack the exemplary way can bring solace, as well as style, to your day to day drive to work, time enjoyed shopping with your sweethearts, or in any event, getting things done in and out of town. This sans hands approach to wearing your pack gives you the adaptability and comfort you want to achieve your everyday undertakings.
Crossbody
Wearing a smaller than usual knapsack . This is seemingly the most famous method for wearing your pack. Similar as the conventional way, crossbody packs permit you to convey your effects without disallowing the utilization of your hands. Having your sack near your side empowers you to have simple and fast admittance to any things you might require over the course of your day!
3.On One Shoulder
Sweet and basic, wearing your knapsack as a.There's only something about this exemplary outline that will stay on pattern for a long time to come. We should be genuine – presumably even for eternity. This way of wearing your sack is particularly reasonable, so you never need to stress over your capacity to recover your own things.
Holding Backpacks Like a Top Handle Bag
Who says you need to utilize lashes by any means? Conveying a rucksack by the top handle can make any look you wear in a flash stylish. Suggestive of the portfolio, deciding to convey your sack this way shouts incredible skill and complexity. This stylish approach to wearing your rucksack oozes certainty and power and adds a specific vibe of devotion to any look you could decide to coordinate with this style.
Around the Waist
This smooth approach to wearing your rucksack is the more slick and mature more established sister of the fanny pack. Open, helpful, and in vogue, wearing your knapsack around your midsection is a definitive new go-to.4 Ways To Style a Backpack
Not certain what to wear with your rucksack? Sit back and relax, we take care of you. For quickly or evening event, the following are four distinct types of dress clothing and the most effective way to style your sack with each outfit thought.
Dress it up
Our flexible Mark Ryden travel laptop backpack matches pretty much any variety you can wear, so whether brilliant and intense or muffled and basic, this pack is the ideal extra for any outfit you pick. Make your work day more intriguing by adding a bit of style.
Didn't figure you could coordinate a knapsack with a dress? Reconsider. Indeed, even the fanciest and frilliest of dresses look perfect with our To ensure that no lashes will cover your dress, convey it by the top handle to add to the tastefulness of your clothing.
Wear it with Something Modern
These shocking loafers are the ideal blend between our two most loved capable completion words – elegant and agreeable. Matched with lower leg length slacks worn around the midriff, this look is ideally suited for the cutting edge lady in a hurry.
The 70s are back, and that is precisely exact thing this sharp blue denim, flare-legged jumpsuit is giving proper respect to. Worn along with these pastel tennis shoes, it gives a cutting edge bend on this oldie but a goodie look. Wearing your knapsack by the top handle in the law breaker of your arm adds complexity to this laid back look.
Stylish Look
Fall is here, and to shake this season, easygoing stylish never becomes dated. Get your #1 sets of denim pants, your coziest sweater, and a couple of forever stylish knee high boots. Wearing your rucksack as a crossbody sack finishes the look and gives an easily classy feel to your ordinary outfit.
This monochromatic look is modern and moderate, yet at the same certainly not exhausting. The pail cap adds the ideal measure of tomfoolery, and our earthy colored calfskin finishes this ultra stylish look that is ideal for the present fashionistas. Match this with shortsighted, petite, gold gems to hoist this style without compromising the moderate nature of the look