Best Places to Visit in Coorg
Overview
Anyone would be captivated by Coorg's coffee estates, which are surrounded by lush flora. It has a lot to offer visitors, with its unspoiled landscapes, magnificent waterfalls, and an astounding variety of flora and animals. In the morning, start waking up to the beauty of foggy mountains and having a cup of freshly ground coffee. Find a bison, an elephant, and, if you're lucky, a Panther. Coorg is one of the top tourist destinations in India, so check out the locations listed below and plan your vacation to the "Scotland of India."
Prepare for a relaxing vacation surrounded by lush greenery! Coorg is an incredibly beautiful destination where you may visit fantastic attractions and rest in peace.
Madikeri Fort
In the late 1700s, King Muddu Raja ordered the construction of Madikeri Fort. On the occasion of naming Madikeri as Coorg's new town. The king also called for the creation of Madikeri Fort, which was later conquered by a number of rulers, including Tipu Sultan. The basic structure of this fort underwent various changes, the most significant of which were done by the British during their imperialism. The fort now houses the Deputy Commissioner's office, as well as elephants at the entryway and a museum with rare exhibits and relics.
Omkareshwara Temple
This lovely temple, nestled in Karnataka's Western Ghats, enchants visitors with its tranquil ambience and unusual architecture. It was founded in 1820 by King Lingarajendra II and has an unusual architecture that draws visitors from all over. If you're on a family trip, you should surely stop by this beautiful temple and spend some time with your loved ones. It is undoubtedly one of the most popular sites to visit among the different Coorg tourist attractions. The fusion of Gothic and Islamic architecture is a one-of-a-kind experience that must be experienced while on vacation in Coorg.
Gaddige Raja's Tomb
Present in the town of Madikeri, Raja's Seat is acknowledged among the most beautiful tourist destinations in Coorg. It's a favourite site for sunsets, with a beautiful view of the green valley and neighbouring hills.It is also encircled by a lovely garden filled with seasonal flowers and musical fountains.
This garden was once a favourite of Kodagu's monarchs, who would come here to watch the sunset with their queens. Raja Seat has various lofty vantage points from which to view the gorgeous valley. The finest times to visit are in the early morning and late evening.
Abbey Falls
If you are taking a family vacation to Coorg in your vehicle, you will be able to experience not only the locations to visit on the route to Coorg, but also all of the fantastic tourist spots within this magnificent region. One such magnificent location is Abbey Falls, which is among the most popular things to do in Coorg. The waterfall is located one kilometre from the town of Madikeri, between coffee farms and spice estates. Enjoy the cascading magnificence of the Kaveri River as it crashes down a rockface, eventually forming the falls. The best months to visit are November and December, immediately after the monsoon season.
Chettalli
A walk to a local town might have been an exciting thing to do in Coorg if you really are curious to learn culture. Chettalli, a little village on the Madikeri-Siddapur Road, is the ideal location. With the foggy hills nicely accented by the never-ending vegetation, it's a great spot to unwind and rest.
If you're looking for locations to visit in Coorg, make sure you don't overlook this one. The well-known Cherala Bhagwati Temple in Chettalli also draws a large number of tourists and visitors.
Mandalpatti Viewpoint
Mandalpatti Viewpoint is a must-see attraction in Coorg. With so much vegetation, trekking is obviously one of the greatest things to do in Coorg. Tourist spots for this pastime abound, but Mandalpatti is regarded as the best. Climb up to Mandalpatti View Point throughout the gorgeous Makkandur trail, but bring some water with you as you enjoy one of Coorg's best trekking trips.
Kopatty Hills Trek
Another captivating trip in Coorg is to Kopatty, which is a thrilling walk experience where one may discover dense forests, meadows, and valleys. It is one of the few undiscovered hiking trails in the Western Ghats, located around 40 minutes from Madikeri. If you enjoy risky explorations, consider a trip to this breathtaking location surrounded by Nature Earth's climate magnificence.
Bhagamandala
Bhagamandala is a prominent pilgrimage location in the Talacauvery foothills, 39 kilometres from Madikeri. The locals think that by taking these divine baths, they can reach spiritual growth. It is also known as the 'Triveni Sangam,' which is the sacred confluence of three rivers: the Kaveri, the Kannike, and the Sujyoti. The third river is thought to be a legendary one that flows underground till it reaches Sangam.
Holi in Rajasthan 2022: A Grand Celebration of Colors!
The festival of Colors Holi is the most awaited festival all over India. People are eagerly waiting to celebrate the colours with their close persons. Additionally, the vibrant atmosphere of Holi creates joy and happiness in everyone's heart. The culture and tradition of the Holi celebration in India are different in each state. While some north Indian states enjoy this colourful festival with a bonfire, the Holi in Rajasthan celebration includes traditional rituals and practices. In each city of Rajasthan, the mode of celebrating Holi is different.
Besides this, this colourful festival is more attractive with special Holi drinks. These drinks, such as Lassi, Bhang, and Chas, make the festival more beautiful. Additionally, the taste of Rajasthan cuisine will make the celebration stunning. Apart from this, different Holi activities of various Rajasthan cities will increase people's excitement to celebrate this festival.
Here are some special Holi events of Rajasthan. So, get an idea of the Holi festival in Rajasthan and book your Rajasthan tour packages to celebrate the festival memorably. 
Different Holi Events in Rajasthan
Holi festival Rajasthan is a traditional and enjoyable festival. People from different age groups celebrate this festival with colours and lots of activities. Here some highlights of Rajasthan hold events in various places are described below. Let's check out these.
Dhulandi Holi – Jaipur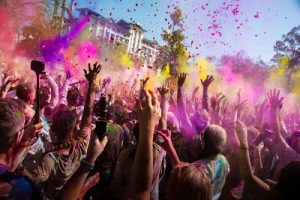 Dhulandi Holi is the best attraction of Jaipur. The end of the winter and the beginning of spring will make the Holi festival of Jaipur more beautiful. A fairy tale about Dhulandi Holi in Rajasthan is, Lord Krishna turns blue after drinking the demon's milk on this day. Mata Yasoda suggested Lord Krishna colour Radha into the same colour for the perfect solace, so from that Day, Dhulandi Holi is celebrated all over Jaipur in the Holi festival.
On this particular day, the temples of Lord Krishna are decorated with lights, flowers and colours. Many special arrangements are made to celebrate the festival happily. Besides this, many foreign tourists also attend this special event of Holi in Jaipur. This colour festival in Rajasthan is more impressive with traditional foods, activities, traditional songs and dances.
Mali Holi – Ajmer
Ajmer is the most beautiful city of Rajasthan, where Holi is celebrated uniquely. People call it Lathmar Holi in Rajasthan. The men of the mali community of Ajmer slit colours on women. Then women used a bamboo stick to beat them. This popular way of celebrating Holi is also famous in Banaras. However, through these rituals, the traditional values of Rajasthan spark. Besides this, people also eat and drink the traditional food of Rajasthan on this day. Every street and lane of Rajasthan is full of different colours.
Moreover, the people of Ajmer also worship Lord Krishna on this day. Each temple and house of Ajmer is full of colours and flowers. Another interesting fact about Ajmer's Holi festival is that people and cattle are coloured with different colours on this day.
Gair Holi – Ajmer
Another memorable holiday event of Ajmer is the Gair Holi. In this Holi celebration, people from the nearest village came with different musical instruments like dhol, drum, and sticks to make the Holi more beautiful. Additionally, in some places, people also celebrate Kodamar Holi in Rajasthan. In this unique celebration, the men of Ajmer sprinkles the colours on the women. Then women fill the cotton cloth in paint and make a Koda. After that, the women beat the men with this Koda. So this special holiday celebration is Kodamar Holi. Most people from different villages gather at Godaji Village, Ajmer. With traditional song and dance, the Holi celebration of Ajmer creates a smile on everyone's face.
Dolchi Holi – Bikaner
In Bikaner, a traditional and unique ritual of Holi celebration by people from 300 years back. On this particular occasion, men throw water on other people with Dolchi. However, to set up all the conflicts and disputes between persons, Bikaner celebrates this unique holiday festival. By the way, women also participate in this traditional practice. So this festival of Holi becomes a significant event in Bikaner. The sweetness of Ghevar and Ladoo with the Holi colours makes the Dolchi Holi festival more beautiful.
Brij Holi – Bharatpur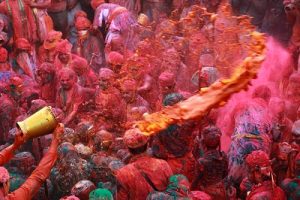 One of the famous Holi in Rajasthan is the Brij Holi of Bharatpur. On this particular day, the people of Bharatpur worship lord Krishna and Radha. Additionally, men and women dressed as Radha and Krishna dance in traditional songs. Many women wear dresses like Gopi, so the festival looks more colourful here. The spiritual atmosphere of Bharatpur creates peace and relaxation in everyone's heart. After the Holi celebration of Bharatpur, people take a holy dip at the Banganga River to clean their hearts and soul. 
Also Read: How to Enjoy Budget-friendly Family Camping
Conclusion
In conclusion, the royal Holi in Rajasthan is the witness of many traditions and rituals. Different events celebrating Holi make everyone happy. If you want to enjoy this festival, you must visit Rajasthan to celebrate Holi this year. Holi in Rajasthan 2022: A Grand Celebration of Colors!
Best American Website related to airlines
With the global launch of the MyEnvoyAir.com website, travel specialists at the online booking service company have been keeping their customers updated with their latest flight information and services.
In the past, the company has only been present in Canada. However, the new website is available in 18 countries and in three languages – English, French, and Spanish.
It has been dubbed the fastest-growing travel network in North America.
According to the company, passengers need to select their travel dates, destination, and travel dates; then enter their email address, credit card information, and be a member of the MyEnvoyAir Rewards program.

MyEnvoyAir.com is a travel company based in Canada. The online booking website is dedicated to helping travelers find great deals on flights, hotels, rental cars and holiday packages, making it the best option in the industry.
Here, customers can find all of their needs, from flight reservations to business, with their convenience and speed.
MyEnvoyAir.com connects passengers and companies with the best deals on flights, hotels, and car rentals. The website is always available to help travelers in need of assistance.
The company is a registered member of travel trade associations in the UK, Europe, and the US, and offers a guarantee of exceptional service with its huge customer base and flexible travel solutions.
This will provide users with the opportunity to earn cashback with no blackout dates. In addition, subscribers can also earn points with each flight book and can gift memberships to friends and family.
MyEnvoyAir also added that it welcomes tourists who have not yet booked an airline ticket.
Through the site, users will find all the benefits and services offered by the company including airport transfers, hotel bookings, vacation packages, and expedited passport and visa services.
"We've brought MyEnvoyAir to the world – the best way to book a flight, hotel or car rental is at www.MyEnvoyAir.com. With MyEnvoyAir you can get the flight, hotel, or car rental you're looking for," stated Jeff Portnow, CEO of MyEnvoyAir.
According to the company, they have made a commitment to continue offering the best deals to passengers, providing them with the most comprehensive travel solutions.
More information on the company and their services are available on their official website.
All the aircraft schedules and reservations, including times and special offers, can be viewed at MyEnvoyAir.com.
The company is a registered member of travel trade associations in the UK, Europe, and the US, and offers a guarantee of exceptional service with its huge customer base and flexible travel solutions.
This will provide users with the opportunity to earn cashback with no blackout dates. In addition, subscribers can also earn points with each flight book and can gift memberships to friends and family.
In the past, the company has only been present in Canada. However, the new website is available in 18 countries and in three languages – English, French, and Spanish.
Microsoft, Yahoo, Expedia, Google, Business Insider, and many other well-known companies have been using the company's technology to help them connect with millions of travelers in the world.


Eligibility criteria for Canadian citizenship
To really be qualified to get to be a Permanent resident Canada citizenship, one should meet the following requirements: (more…)