Best Places to Visit In Bengaluru For Kids
Overview
The old school classroom education has upgraded itself in today's day and age. Students are exploring the world virtually through the internet. Their interaction with the outside world has significantly decreased which needs to be balanced out.
In an attempt to engage children in fun outdoor activities where they can play and also learn at the same time, these are some of the best places you can visit in Bangalore.
Amusement Parks
Kids need to be kids again and what better place than Amusement parks! Bengaluru has some of the best amusement parks with exciting fun rides to enjoy all day. On the top of the list we have Fun World Amusement Park. This amusement park also consists of a water park. It is fully equipped with a restaurant, toilets and live performances for entertainment. The park is situated right in the heart of Bengaluru city. The fun activities range from mighty ferris wheel ride to rain dances and water slides. The park is open for all the visitors seven days a week. Timings are from morning 11 to 6.30 in the evening. Just pack your bag with synthetic clothes to wear in the pool and spend your fun day with the kids.
Snow City
Next on the fun list we have Snow City. Snow city is an artificially built indoor snow centre with snow rides. It is located in Bengaluru main city area. Your kids can experience snow without having to book a ticket for Himachal Pradesh. This snow themed amusement park is perfect to celebrate your kid's birthday! The overcoats, jackets, gloves, shoes are provided by the managing authority. The entry fee to enter this snow paradise is 650 rs.
Turning towards academics, the Nehru Planetarium is the best place to spark an interest in kids' minds about science, space, planets and inform them regarding recent discoveries about the cosmos. There is a sky theatre with a dome of 15 m large which attracts a lot of amateur astronomers and young minds.
Museum
In order to educate kids about the history of their hometown and home state, the Government Museum is the apt place to do so. The state's culture, language, art, and history needs to transcend through generations and generations. For that, kids should be taken to regular museum tours so that the future generation of Bengaluru and Karnataka preserves its culture. The Visvesvaraya technological and Industrial Museum is usually filled with school students pressing buttons on the exhibits that reflect India's technological progress.
Picnic Spots
Picnic spots like Ulsoor lake, Cubbon Park, Lal Bagh Botanical Gardens are perfect for outdoor activities. All of these areas have wide open spaces, surrounded by trees and lakes which is perfect for children to play, paint, mingle with other kids and have a quality time with their families. Kids can lay, roll, stumble onto the grass, climb trees, go boating. do all the possible activities kids are supposed to do.
Resorts
Many resorts near Bengaluru have availed day out packages for families with kids where they can enjoy adventurous activities like rope crossing, zip line, zorbing ball, bungee trampoline and many more. Resorts that provide these fun ventures are Guhantara Resort, DIscovery Village Resort, etc. There are separate play areas in most of the resorts for kids to enjoy slides, swings, see-saws and many more. Play cricket, football with your kids in the open area or have a swim in the swimming pool on a hot summer day.
Adventure Camps
The value and importance of preserving nature should be taught from a very young age. Take your kids to Bannerghatta National Park, Bheemeshwari Adventure Camp where kids will get to experience camping and observe the nature, flora and fauna at the same time. Memories of early morning Safari rides, witnessing wildlife in their own habitat will be etched forever in kids minds. Since experience will be their teacher in the wild, kids will learn to value Mother Nature and take promising steps to preserve it for the future generation. Butterfly and Fishing camps near Cauvery RIver are bound to amaze your kids with its colourful and serene beauty. Also do not forget to watch sunrises with you kids as it poses as a special experience to share.
City Visit
Lastly, coming to factory, plantations and IT City visits. Kids need to know the basic functioning of these machine dominated industries especially keeping in mind the current scenario. The agricultural whereabouts of crops, fruits and coffee. The IT world of Electronic city constantly inventing new stuff for the future is a must-visit for kids to encourage them to explore and invent new things for the future.
Holi in Rajasthan 2022: A Grand Celebration of Colors!
The festival of Colors Holi is the most awaited festival all over India. People are eagerly waiting to celebrate the colours with their close persons. Additionally, the vibrant atmosphere of Holi creates joy and happiness in everyone's heart. The culture and tradition of the Holi celebration in India are different in each state. While some north Indian states enjoy this colourful festival with a bonfire, the Holi in Rajasthan celebration includes traditional rituals and practices. In each city of Rajasthan, the mode of celebrating Holi is different.
Besides this, this colourful festival is more attractive with special Holi drinks. These drinks, such as Lassi, Bhang, and Chas, make the festival more beautiful. Additionally, the taste of Rajasthan cuisine will make the celebration stunning. Apart from this, different Holi activities of various Rajasthan cities will increase people's excitement to celebrate this festival.
Here are some special Holi events of Rajasthan. So, get an idea of the Holi festival in Rajasthan and book your Rajasthan tour packages to celebrate the festival memorably. 
Different Holi Events in Rajasthan
Holi festival Rajasthan is a traditional and enjoyable festival. People from different age groups celebrate this festival with colours and lots of activities. Here some highlights of Rajasthan hold events in various places are described below. Let's check out these.
Dhulandi Holi – Jaipur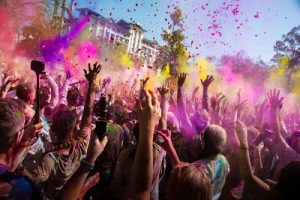 Dhulandi Holi is the best attraction of Jaipur. The end of the winter and the beginning of spring will make the Holi festival of Jaipur more beautiful. A fairy tale about Dhulandi Holi in Rajasthan is, Lord Krishna turns blue after drinking the demon's milk on this day. Mata Yasoda suggested Lord Krishna colour Radha into the same colour for the perfect solace, so from that Day, Dhulandi Holi is celebrated all over Jaipur in the Holi festival.
On this particular day, the temples of Lord Krishna are decorated with lights, flowers and colours. Many special arrangements are made to celebrate the festival happily. Besides this, many foreign tourists also attend this special event of Holi in Jaipur. This colour festival in Rajasthan is more impressive with traditional foods, activities, traditional songs and dances.
Mali Holi – Ajmer
Ajmer is the most beautiful city of Rajasthan, where Holi is celebrated uniquely. People call it Lathmar Holi in Rajasthan. The men of the mali community of Ajmer slit colours on women. Then women used a bamboo stick to beat them. This popular way of celebrating Holi is also famous in Banaras. However, through these rituals, the traditional values of Rajasthan spark. Besides this, people also eat and drink the traditional food of Rajasthan on this day. Every street and lane of Rajasthan is full of different colours.
Moreover, the people of Ajmer also worship Lord Krishna on this day. Each temple and house of Ajmer is full of colours and flowers. Another interesting fact about Ajmer's Holi festival is that people and cattle are coloured with different colours on this day.
Gair Holi – Ajmer
Another memorable holiday event of Ajmer is the Gair Holi. In this Holi celebration, people from the nearest village came with different musical instruments like dhol, drum, and sticks to make the Holi more beautiful. Additionally, in some places, people also celebrate Kodamar Holi in Rajasthan. In this unique celebration, the men of Ajmer sprinkles the colours on the women. Then women fill the cotton cloth in paint and make a Koda. After that, the women beat the men with this Koda. So this special holiday celebration is Kodamar Holi. Most people from different villages gather at Godaji Village, Ajmer. With traditional song and dance, the Holi celebration of Ajmer creates a smile on everyone's face.
Dolchi Holi – Bikaner
In Bikaner, a traditional and unique ritual of Holi celebration by people from 300 years back. On this particular occasion, men throw water on other people with Dolchi. However, to set up all the conflicts and disputes between persons, Bikaner celebrates this unique holiday festival. By the way, women also participate in this traditional practice. So this festival of Holi becomes a significant event in Bikaner. The sweetness of Ghevar and Ladoo with the Holi colours makes the Dolchi Holi festival more beautiful.
Brij Holi – Bharatpur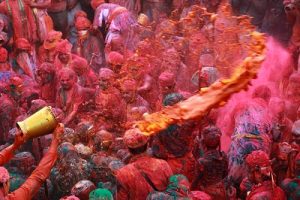 One of the famous Holi in Rajasthan is the Brij Holi of Bharatpur. On this particular day, the people of Bharatpur worship lord Krishna and Radha. Additionally, men and women dressed as Radha and Krishna dance in traditional songs. Many women wear dresses like Gopi, so the festival looks more colourful here. The spiritual atmosphere of Bharatpur creates peace and relaxation in everyone's heart. After the Holi celebration of Bharatpur, people take a holy dip at the Banganga River to clean their hearts and soul. 
Also Read: How to Enjoy Budget-friendly Family Camping
Conclusion
In conclusion, the royal Holi in Rajasthan is the witness of many traditions and rituals. Different events celebrating Holi make everyone happy. If you want to enjoy this festival, you must visit Rajasthan to celebrate Holi this year. Holi in Rajasthan 2022: A Grand Celebration of Colors!
Best American Website related to airlines
With the global launch of the MyEnvoyAir.com website, travel specialists at the online booking service company have been keeping their customers updated with their latest flight information and services.
In the past, the company has only been present in Canada. However, the new website is available in 18 countries and in three languages – English, French, and Spanish.
It has been dubbed the fastest-growing travel network in North America.
According to the company, passengers need to select their travel dates, destination, and travel dates; then enter their email address, credit card information, and be a member of the MyEnvoyAir Rewards program.

MyEnvoyAir.com is a travel company based in Canada. The online booking website is dedicated to helping travelers find great deals on flights, hotels, rental cars and holiday packages, making it the best option in the industry.
Here, customers can find all of their needs, from flight reservations to business, with their convenience and speed.
MyEnvoyAir.com connects passengers and companies with the best deals on flights, hotels, and car rentals. The website is always available to help travelers in need of assistance.
The company is a registered member of travel trade associations in the UK, Europe, and the US, and offers a guarantee of exceptional service with its huge customer base and flexible travel solutions.
This will provide users with the opportunity to earn cashback with no blackout dates. In addition, subscribers can also earn points with each flight book and can gift memberships to friends and family.
MyEnvoyAir also added that it welcomes tourists who have not yet booked an airline ticket.
Through the site, users will find all the benefits and services offered by the company including airport transfers, hotel bookings, vacation packages, and expedited passport and visa services.
"We've brought MyEnvoyAir to the world – the best way to book a flight, hotel or car rental is at www.MyEnvoyAir.com. With MyEnvoyAir you can get the flight, hotel, or car rental you're looking for," stated Jeff Portnow, CEO of MyEnvoyAir.
According to the company, they have made a commitment to continue offering the best deals to passengers, providing them with the most comprehensive travel solutions.
More information on the company and their services are available on their official website.
All the aircraft schedules and reservations, including times and special offers, can be viewed at MyEnvoyAir.com.
The company is a registered member of travel trade associations in the UK, Europe, and the US, and offers a guarantee of exceptional service with its huge customer base and flexible travel solutions.
This will provide users with the opportunity to earn cashback with no blackout dates. In addition, subscribers can also earn points with each flight book and can gift memberships to friends and family.
In the past, the company has only been present in Canada. However, the new website is available in 18 countries and in three languages – English, French, and Spanish.
Microsoft, Yahoo, Expedia, Google, Business Insider, and many other well-known companies have been using the company's technology to help them connect with millions of travelers in the world.


Eligibility criteria for Canadian citizenship
To really be qualified to get to be a Permanent resident Canada citizenship, one should meet the following requirements: (more…)